Thank you so much to everyone who emailed me and commented about my new site!  I really appreciate your encouragement ❤
I talked about knitting a lace shawl with beads a little while ago.  This shawl had a deadline since I wanted to wear it to my cousin's wedding in December.  I wanted something pretty and warm at the same time to wear so that I wouldn't become a frozen ice cube in the winter chill.
Everything went well even though this was my first time knitting with beads and I got that shawl done well before the wedding.  When it came to the actual day, it turned out that I didn't need the shawl after all.  The lovely waterfront venue for the wedding was toasty warm thanks to the heated floors. So, my beaded shawl remained tucked in my purse.
I used Tosh Prairie in a gorgeous colorway called Spectrum and Japanese seed beads for some subtle bling.  The seed beads mimicked the colors of the yarn perfectly and it was so easy to add them using a crochet hook.
I wanted to knit a lace shawl that was delicate with a curved edge.  I knew that a Boo Knits pattern would be the right choice for what I had in mind.  I chose Fragile Heart opting for a larger stockinette body combined with the lace edging. I could have actually knit this thing bigger because when all was said and done, I had plenty left over :: each skein of Prairie has 840 yards.  That's a lot!  I didn't account for this generous yardage until after the fact. Therefore, the size is more scarf, less shawl-like… bygones, bygones.
I blocked it and it turned out to be light as a feather and absolutely delicate.  I got my lace fix and tried my hand at beading with this project.  Whee 🙂 The colors are just as intense in the knitted fabric as they appear in the skein. Spectrum is truly spectacular!
I've worn this scarf/shawl/shawlette a bunch of times and I love how soft and luxurious this yarn feels.  The beads look so lovely when they catch the light.  I definitely want to add beads to another project.
The wedding was lots of fun.  Miss. K was part of the bridal party as the flower girl.  She looked like a fluffy cloud in her dress 🙂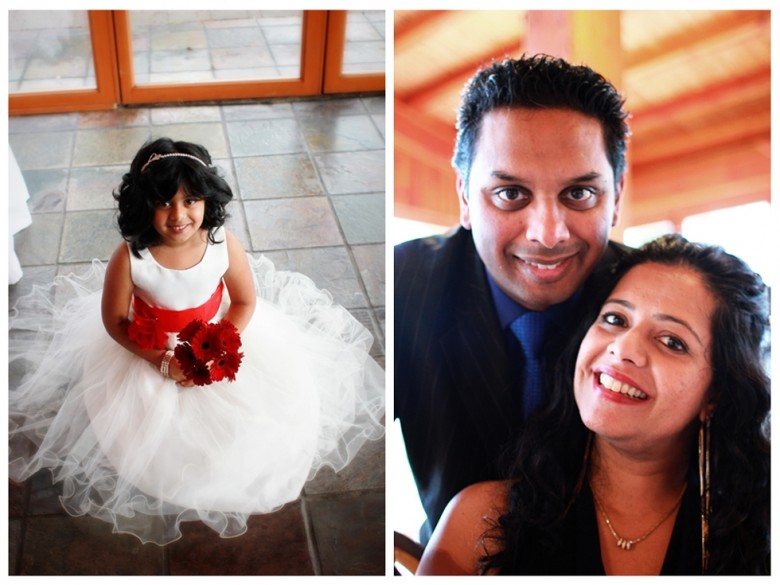 Prithvi, was one of the emcees at the reception and he did such a great job!  Proud mama.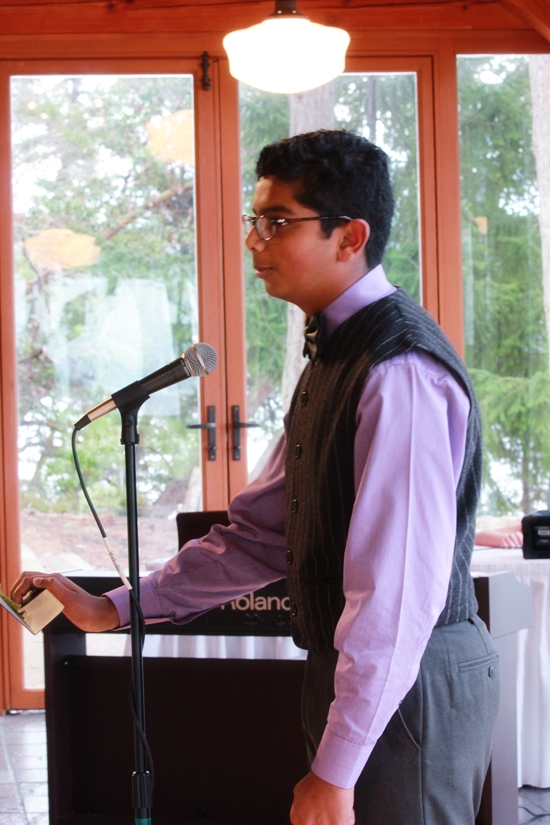 The happy Mr. & Mrs. 🙂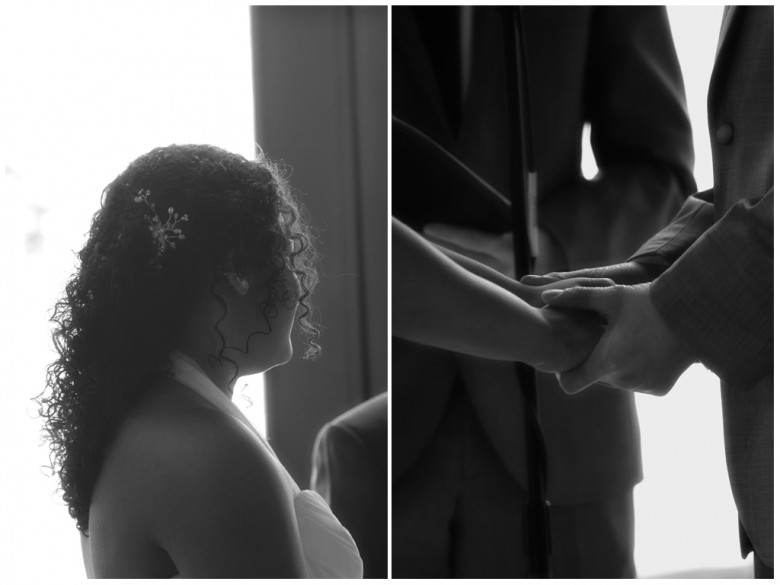 So, back to my shawl… here are some project details
Fragile Heart (my Ravelry notes) 
Pattern: Fragile Heart by Boo Knits
Yarn: Madelinetosh Prairie in "Spectrum"
Needles: Sizes US 5, 6 & 7 / 3.75, 4 & 4.5 mm