I was asked by Yarn Canada to review some Red Heart Scrubby yarn they sent me.  I have to confess, I have never knit with Red Heart yarn before let alone, a yarn that looked 'scratchy'.  But, I was ready for the challenge!
As you can see, it says that this yarn is great for dishcloths, right on the ball band.  I wanted to test out that claim.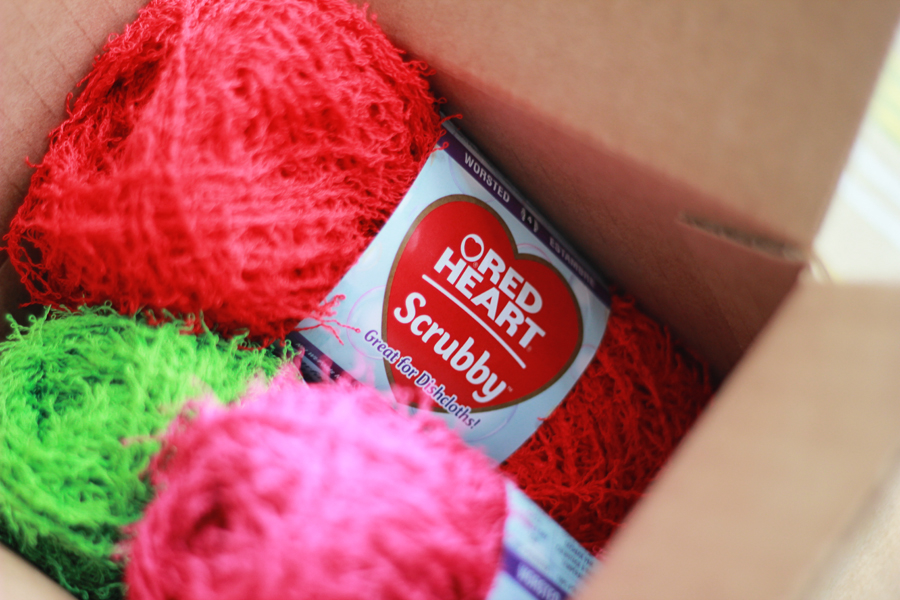 I received three different colored balls of Scrubby and I could knit or crochet a simple square with the different colors to test this yarn.  But I wanted something "funner" 🙂  I looked online and found this interesting pattern for a Tawashi.
To make a Tawashi, you knit or crochet a small rectangle on the bias.  You do this by decreasing stitches on one end and increasing them on the other end of alternate rows.  A parallelogram-shaped piece of knitted fabric is the result.  I used a combination of cheerful pink and bright green to knit my first Tawashi.  It went rather quickly on the needles.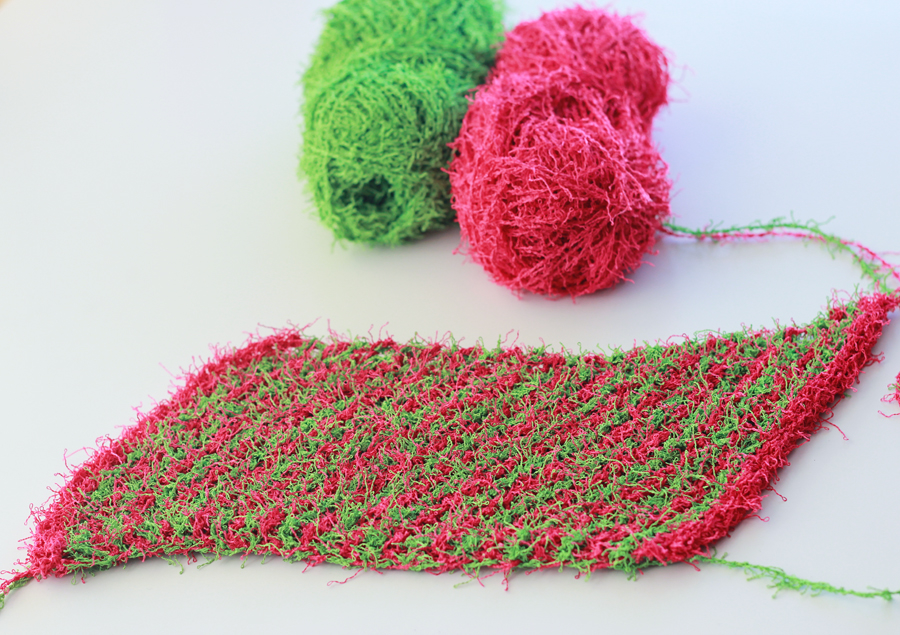 Next, I used this pattern for a more Christmassy-looking Tawashi.
Ta-da!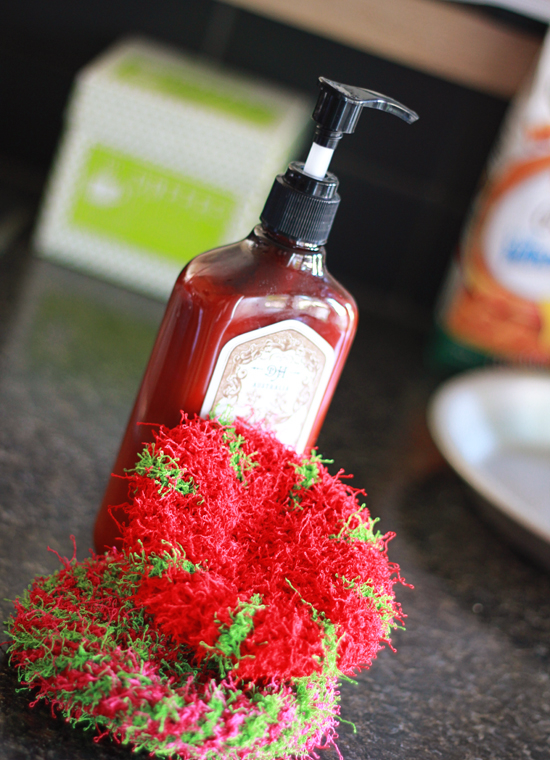 I thought that this yarn would be really hard on the hands.  If it can get tough grease and grit off dirty dishes, it can surely shred ones fingers.  But none of that happened and my fingers are intact.  The yarn is very different to the touch, I'll give you that.  But it doesn't feel plasticky at all neither does it have that overpowering chemical smell that tends to accompany some acrylic yarns.  I was pleasantly surprised!
Time for the true test.  How does it work on getting dirty dishes clean.  Pretty good actually!  I didn't have to pre-soak the dishes for ages or use too much elbow grease and they came out looking sparkly clean.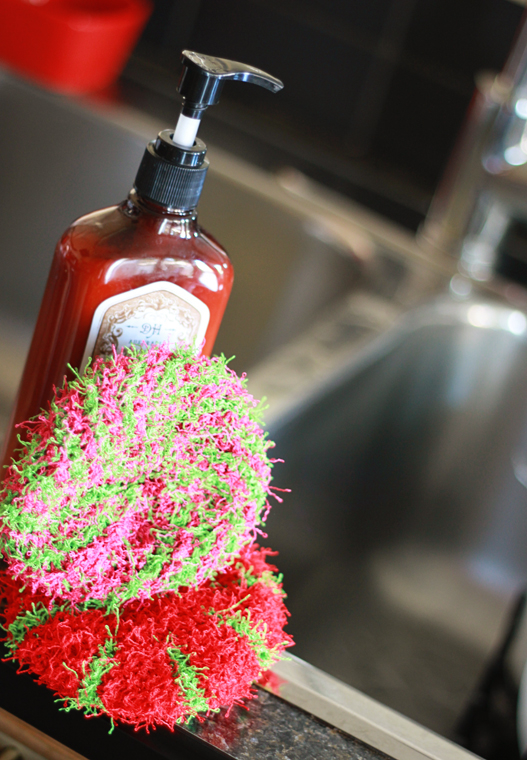 Verdict :: this is a great yarn for dishcloths.  A cute little stack of these will be a great addition to a gift basket for a housewarming party or Christmas.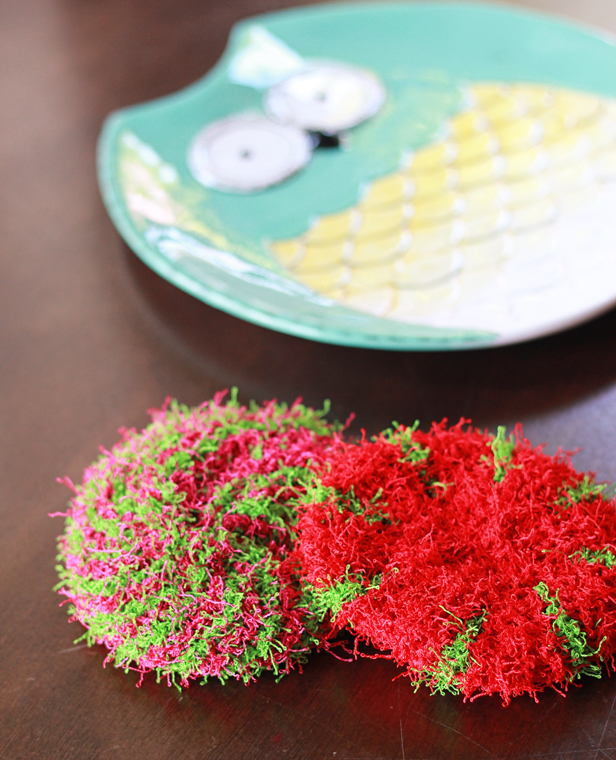 Given that this yarn is textured, a stitch pattern other than garter stitch or stockinette, isn't going to show up. Also, if you make a mistake while you are knitting/crocheting, chances are no one will see it so just keep soldiering on and don't attempt to rip out your work.  This yarn is definitely fudge-friendly and can hide a multitude of errors 🙂
Celebrate handmade with these cute Tawashi scrubbies!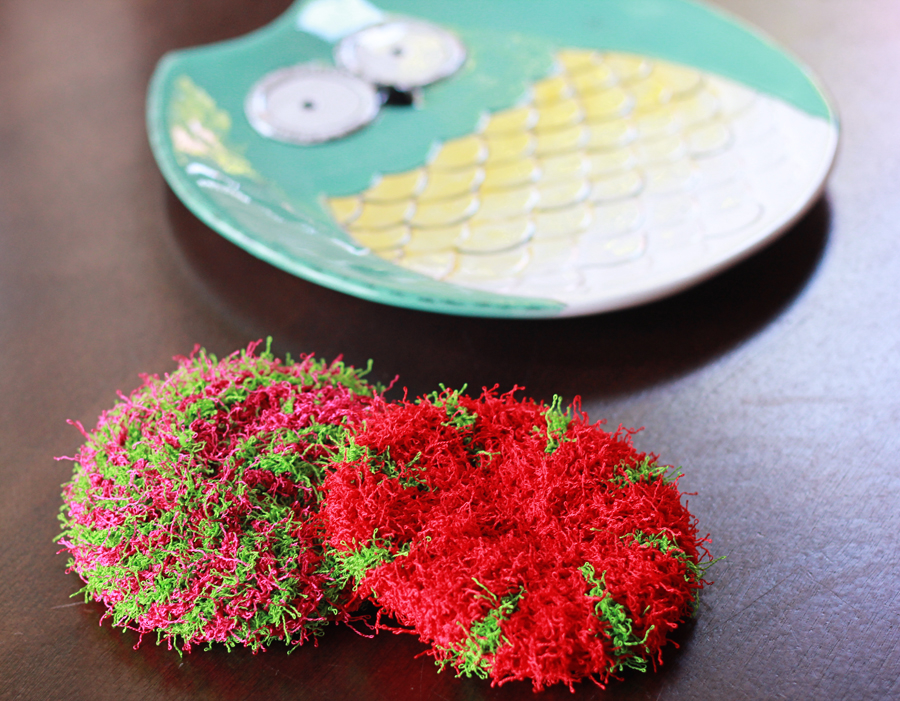 This blog post is brought to you in collaboration with Yarn Canada. Skeins were received for review purposes. Views expressed here are my own.