I was looking for dinner inspiration on the interwebs the other day and you know how AdSense shows you pictures on the sidebar of things that you may be interested in. They have to rework their algorithm because I get a lot of promotions for power tools!!  I don't think I've ever actively "googled" power tools for this to happen, but nonetheless.
This time however, there was this cool looking project tutorial by Jenny Doan of Missouri Star Quilt Co. I paused dinner plans and went on to watch the tutorial called Easy Cathedral Window – fascinating!  I didn't really want to make a big project using this new-to-me technique. Pinterest showed me a pincushion version of the Cathedral Window and I bookmarked it. Perfect!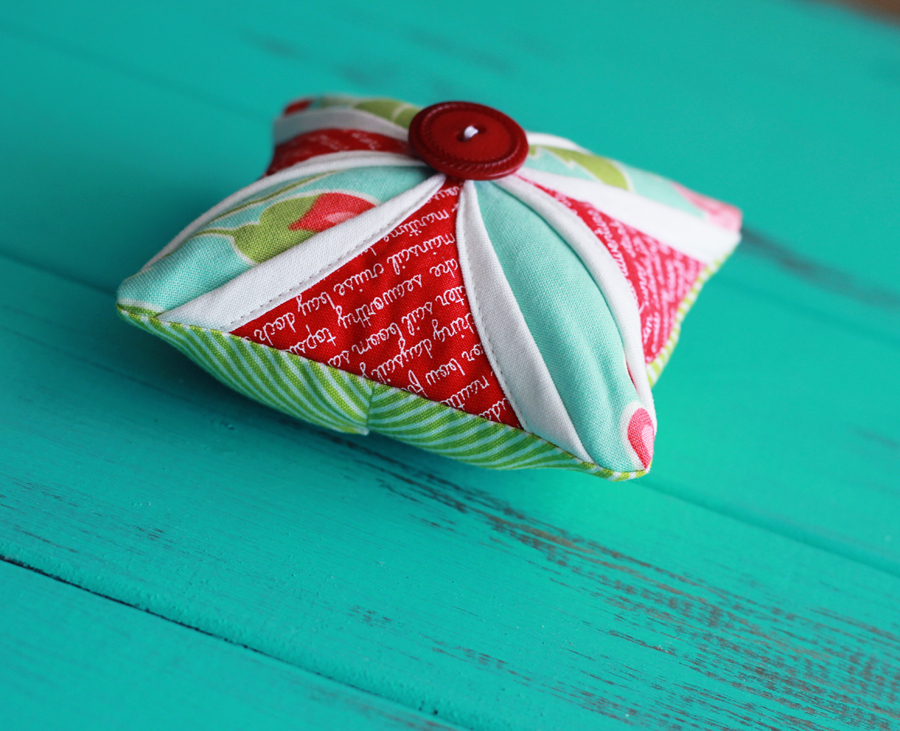 Post dinner, using this tutorial from Riley Blake, I set to work and voila!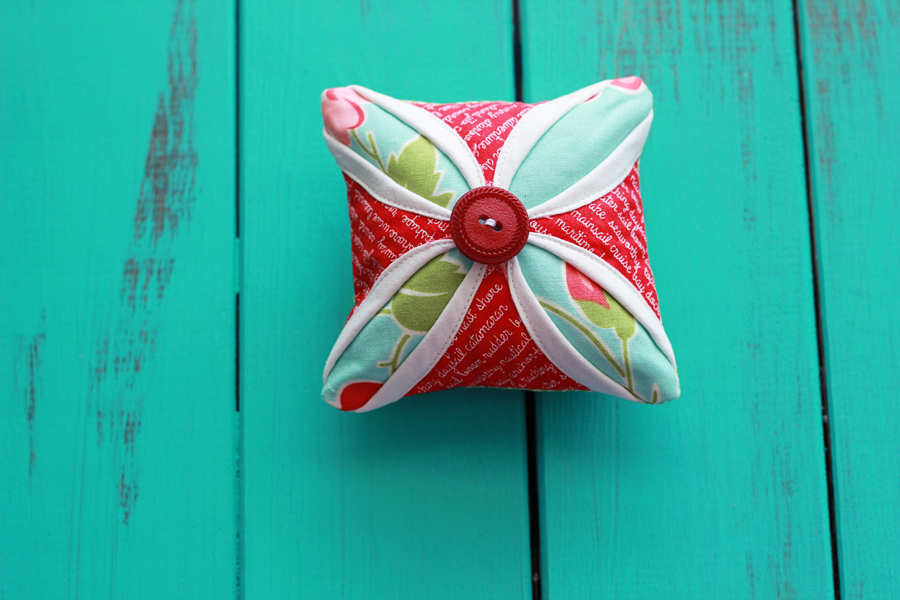 Such a cute little thing waiting to be jabbed with pins!  Oh, that didn't come out right, did it!!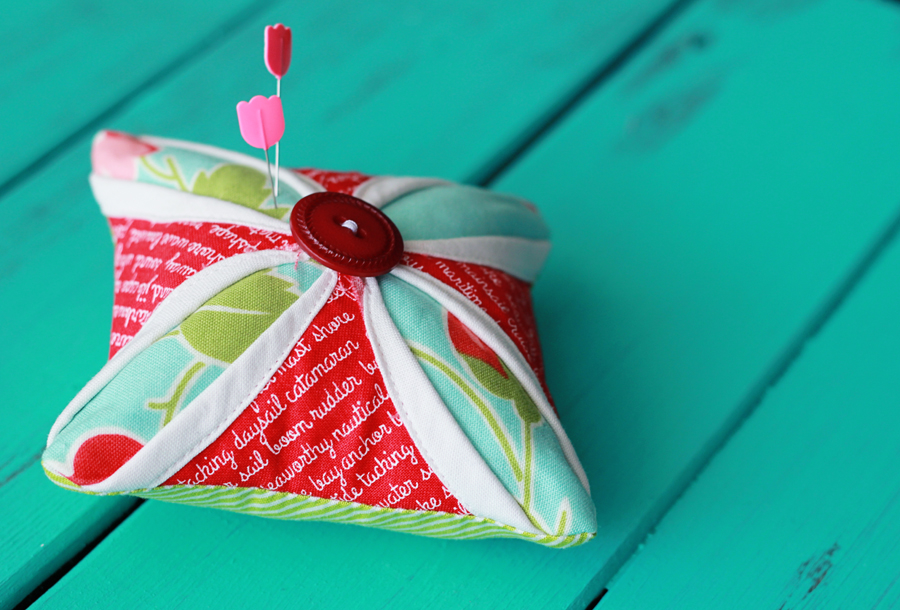 When I thought about writing this post, I was curious about why this is called a "Cathedral Window". So, I dug around and found some interesting stuff.  The first quilt using this block was seen at the Chicago World Fair in 1933.  So, it's been around for a while!  This block has many other names, Daisy Block, Orange Blossoms, Attic Window, Pain In The Neck (the person who came up with that name that should have stuck with making a pincushion!)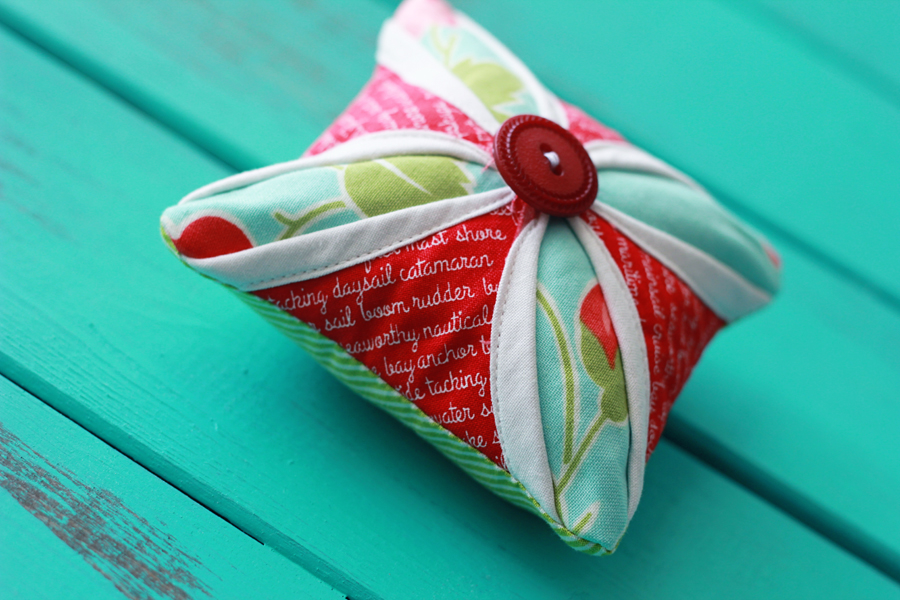 When the pattern became popular during that era, the colorful fabric that was used for the "windows" was usually lightweight muslin or gauze producing a stained glass effect just like those found in the windows of cathedrals.  The frames were made using a heavier weight fabric and usually solid in contrast.
For my project, I wasn't really going for a stained glass effect.  I used regular quilting cotton for the whole thing.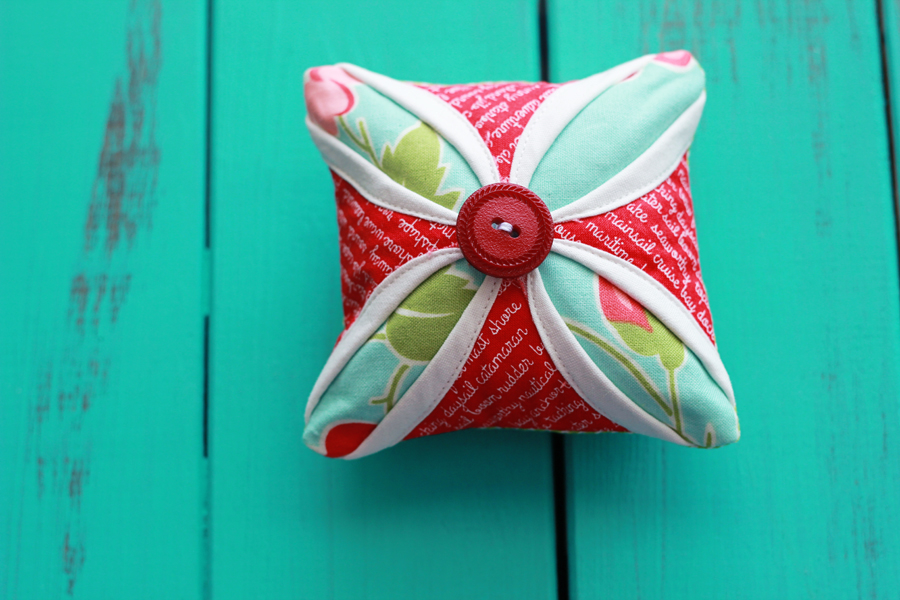 Button on the top.  Done!
** Linking up with Amanda Jean for Finish It Up Friday **