I have been following Chase's blog, quater inch mark, for quite a while.  She does the most intricate piecing and hand quilting.  Her posts about everyday life :: crafting or otherwise, are always so sweet.  Chase hosted a QAL (quilt along) via the Pack Patch Flickr Group and I signed up to be a part of it.  This QAL was so much fun and very interesting!
The blocks were a simple twelve patch, but there was a twist.  Every Friday, she would give us two themes that our fabrics had to represent or a creative idea that we had to execute through our blocks.  Some weeks were pretty straightforward, like these:
My favorite colors.  Aqua and red, 'nuff said!
My favorite classic movie.  Mine is Breakfast at Tiffany's. The pink represents Holly Golightly's hot pink dress and of course I had to pair it with black because of her famous black dress and chunky pearls 🙂
Some themes made you think harder:
I was born in... I was born in the 70's, the era of orange, flower power and bell bottoms!
Home Block, representing family, warmth, laughter and a welcome place for friends
and Away Block… vacation, rainbow slushies and fun family times
Some of them were just plain fun:
Cheddar Block.  Everyone loves cheese!
Laundry Days.  I wish those were filled with bubbles and sunshine!  Ah, but in the real world, I'm grateful for the convenience that is my washer and dryer to get me through laundry day 😉
I loved this set:
The moment of me and my parents.  My mom's favorite color is mustardy yellow.  My dad once bought her a silk scarf in her favorite color with bright pink accents 🙂
The moment of me and my kids.  Sweet memories of picnics in wildflower meadows 🙂
In case you are curious, all my blocks with blurbs about why I chose the fabric combinations that I did are in my flickr album.
There are so many wonderful blocks by other members and lovely finished mini quilts.
The QAL ran for about 10 weeks and then we were given instructions to assemble the blocks together and finish the mini quilt.
Initially, I began to quilt the mini using wavy lines.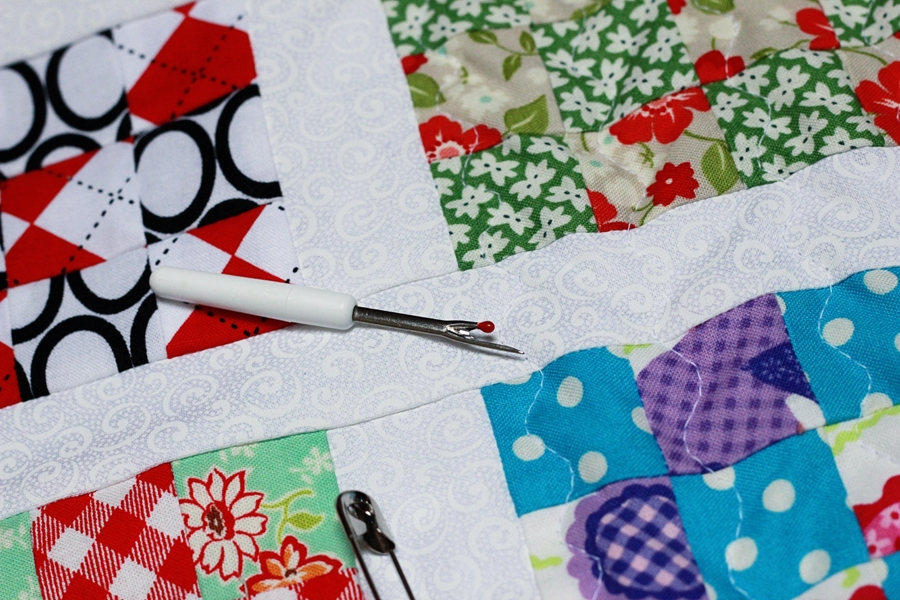 But that distorted the blocks and took away from the crisp, clean lines that I loved about each block.  So, I ripped that out and opted instead for old faithful… straight line quilting 🙂
Here's my Pack Patch Mini Quilt all finished and bound.
It's a fun mix of scraps from my stash and each block represents a different theme which makes it an interesting finished project.
Not sure if I will put this up on a wall.  I haven't washed it yet, so it doesn't have that crinkly look that I love.
This mini quilt is extra, extra special because I backed it with fabric that my friend Kim gave me.
Thank you Chase for such a fun QAL, I'm looking forward to the next one 🙂
** Linking up with Amanda Jean for Finish It Up Friday! **